New York Senator Chuck Schumer has nominated National Director of the Civil Rights Division of the Anti-Defamation League, attorney Daniel Alter, to serve as a judge in the Southern District federal court: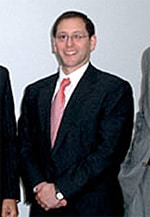 "Mr. Alter is a history-making pick, as he is the first openly gay male nominated for the federal court in American history. Schumer laid out several reasons Alter would make an excellent fit for the job. Schumer said that Alter's stellar legal background, close ties to New York, even-handedness, temperament and demonstrated leadership skills would make him an excellent choice for the Southern District Court. Schumer also said that he is highly capable and very qualified for the position…Alter is not only a legal expert in terrorism and security; he is a strong advocate for civil rights. As the National Director of the Civil Rights Division of the Anti-Defamation League, Daniel led the ADL's charge against hate crimes, both at home and abroad."
Said Schumer: "Daniel Alter couldn't be a more perfect choice. He is a brilliant attorney who possesses the knowledge, balanced views and temperament required of a federal judge. His outstanding leadership skills, his commitment to justice, and his extensive experience make him an exceptional choice for a position on the federal bench. I'm proud to nominate Daniel Alter. Period. But I am equally proud to nominate him because he is a history-maker who will be the first openly gay male judge in American history."
DC Agenda reports: "His appointment is subject to Senate confirmation.
For judicial nominations, presidents traditionally abide by the recommendations made by the senior senator from the state where there's a vacancy, which in the case of New York is Schumer.