Ann Coulter claims she is the victim of a hate crime after the University of Ottawa sent her a letter urging her to use "restraint, respect, and consideration" during an appearance there, reports the National Post: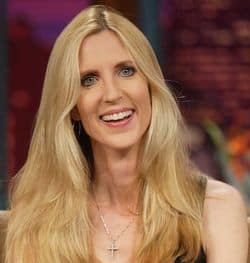 "Speaking to students and academics at the University of Western Ontario Monday, Coulter said the e-mail sent to her Friday by Francois Houle, vice-president academic and provost of the University of Ottawa, targeted her as a member of an identifiable group and as such, she will be filing a complaint with the Human Rights Commission alleging hate speech.
'I'm sure the Human Rights Commission will get to the bottom of it,' Coulter said to loud cheers from the 800-strong audience. 'I think I'm the victim of a hate crime here. Either what (Mr. Houle) did was a hate crime, or the whole commission is BS.'
In Houle's e-mail, a copy of which was obtained by the National Post, the administrator urges Coulter to weigh her words with 'respect and civility in mind' when she speaks at the University of Ottawa campus Tuesday."
Said the letter, which an attorney who spoke before Coulter called a "veiled threat": "Our domestic laws, both provincial and federal, delineate freedom of expression (or 'free speech') in a manner that is somewhat different than the approach taken in the United States. I therefore encourage you to educate yourself, if need be, as to what is acceptable in Canada and to do so before your planned visit here. Promoting hatred against any identifiable group would not only be considered inappropriate, but could in fact lead to criminal charges."
So what did Coulter talk about?
"Her 45-minute speech was loosely focused on political correctness, which gave her full reign to attack liberals of all stripes.
Liberals constantly complain their rights are being attacked in the same way blacks' rights once were, she said.
'In America everybody wants to be black. The feminists want to be black, the illegal aliens want to be black, the gays want to be black,' she said.
Yet none of the complainers have anything serious to complain about, Coulter said.
'There are only two things gay men can't do. Number one, get married to each other. Number two, throw a baseball without looking like a girl.'
But her jokes often had a serious point as well.
'Every Democrat in the past several election cycles that has run for president has sworn to attack gay marriage, but only Republicans get attacked for gay marriage.'
Backed by the mainstream media, liberals have turned political correctness into a weapon that attempts to silence people with opposing views, Coulter said."