We'll get later this week from Defense Secretary Robert Gates on how the DoD is going to make "Don't Ask, Don't Tell" a "more humane" policy, a spokesman says: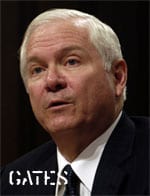 "Defense Department Press Secretary Robert Morrell told reporters that Gates will lay out elements of the department's strategy to repeal the prohibition on openly gay and lesbian servicemembers later this week.
'I think he is prepared to offer a way ahead on that subject this week,' Morrell said during a regular press briefing. 'Hopefully you'll be seeing him later this week and can address the changes that he is going to be making to the department's policy to provide for a more humane enforcement and application of the law.'
Gates has joined President Barack Obama and top military leaders in calling for the repeal of the policy.
It's not clear what the timeline for removing the policy would look like, or whether Gates will comment on that this week."
Some related, troubling news from DC Agenda: 
"Lawrence Korb, a senior fellow at the Center for American Progress Action Fund, said he met recently with officials working on the study and said he didn't think the questions they raised pertained to where he thought the study should be heading.
'Now, I get the impression — based upon looking outside and talking to people — that a lot of the people are not convinced that this needs to be repealed and really think it's their mission to even examine this,' he said during a panel discussion on a new Center for American Progress report on 'Don't Ask, Don't Tell.'
Korb said officials on the working group were focused on how repeal could negatively affect the U.S. military as opposed to implementing an end to the law — as Defense Secretary Robert Gates directed earlier this year."
Added Korb: "So, I don't get the impresssion that you got a group of people who said, 'OK, the chairman [of the Joint Chiefs of Staff] spoke, the secretary spoke and the president, so now we're going to have a 'can do' attitude. I do not get that."