Republican National Committee Chair Michael Steele's expenses have come under review, based on some recent FEC filings: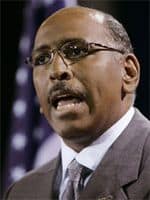 "The RNC explains that Steele charters jets only when commercial service is unavailable, or when his tight schedule requires it. "Anytime the chairman has taken any private travel has been a either to a route that doesn't exist or because of connections and multiple travel to where he just wasn't able to do so," Heye said. Yet Steele's office repeatedly refused to explain in specific terms the circumstances of the February charter flights.
Once on the ground, FEC filings suggest, Steele travels in style. A February RNC trip to California, for example, included a $9,099 stop at the Beverly Hills Hotel, $6,596 dropped at the nearby Four Seasons, and $1,620.71 spent [update: the amount is actually $1,946.25] at Voyeur West Hollywood, a bondage-themed nightclub featuring topless women dancers imitating lesbian sex."