The WTC bombings might have been disrupted if the CIA wasn't pursuing, covertly (and thus keeping their information from the FBI), efforts to recruit an Iraqi airline employee with connections to a 9/11 hijacker as a turncoat (using his purported homosexuality as a blackmail weapon), reports a story in the New York Observer. The efforts failed, but kept the CIA from reporting essential info about the hijacker to the FBI, info that could have disrupted the attacks..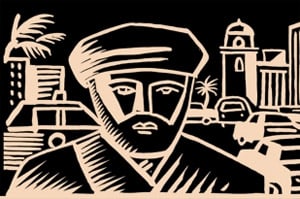 "…a new story about the run-up to 9/11 has emerged—a previously undisclosed, covert C.I.A. effort to recruit a spy to penetrate Al Qaeda a year and a half before the planes crashed into the towers.
The development is intriguing in part because the informant they were after was thought to be secretly gay—a fact that gave intelligence agents leverage in their efforts to turn him against his conservative Islamist circle. But the case may also help answer one of the long-standing mysteries of the 9/11 narrative: why a terrorist known to one part of the U.S. government wasn't captured by other parts before he boarded a plane and helped carry out the most devastating attacks on the country.
Intelligence officials tell The Observer that the character at the center of the intrigue was an enigmatic but jovial man named Ahmad Hikmat Shakir, or .Shakir el Iraqi.'… 'He was tall as a mushroom, fat and gay,' one source familiar with the case told The Observer, 'and the idea was to exploit him as an agent against Al Qaeda.'
The C.I.A.'s pursuit of Mr. Shakir, and the role he could have played in stopping, or at least complicating, the 9/11 plot, is a story that's never been told, adding yet another piece in the puzzle leading up to the attacks."
Neocons once also tried to argue Shakir was a direct link between 9/11 and Iraq but it was proven that Shakir was not an Iraqi agent of any kind nor a fedayeen officer. His whereabouts today are unknown.
The Gay Terrorist [ny observer]