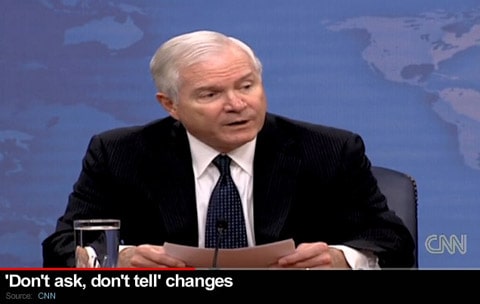 Robert Gates announced changes in the military's "Don't Ask, Don't Tell" policy effective immediately.
The AP: "The changes raise the level of officer authorized to initiate a fact-finding inquiry into a case, the level of officer who can conduct an inquiry and of the one that can authorize a dismissal.To discourage the use of overheard statements or hearsay, from now on any evidence given in third-party outings must be given under oath, Gates said. Cases of third-party outings also have included instances in which male troops have turned in women who rejected their romantic advances or jilted partners in relationship have turned in a former lover.Some kinds of confidential information also will no longer be allowed, including statements gays make to their lawyers, clergy, psychotherapists or medical professionals in the pursuit of health care."
Said Gates: "I do not recommend a change in the law before we have completed our study. There is a great deal we don't know about this…there is a lot we have to address in terms of what would be required in the way of changed regulations, in terms of benefits. There are a lot of unanswered questions in terms of the implementation of this proposed change in the law."
Watch, AFTER THE JUMP…