Congressman Barney Frank was in Los Angeles over the weekend and Karen Ocamb of LGBT POV had the chance to sit down with him and discuss pending LGBT rights legislation, specifically ENDA and 'Don't Ask, Don't Tell'.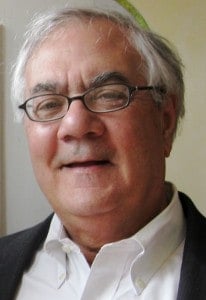 Frank expressed frustration over Obama's lack of support on 'Don't Ask, Don't Tell':
"I'm frustrated. I'm disappointed with the administration, in part. There have been some good things. Admiral Mullen saying what he said was spectacular. And enforcing it the way it was originally supposed to – even though I didn't like it – discharges can be cut by over 90 percent.

But there will be a vote in the House. Rep. Patrick Murphy is going to offer his amendment. I think we'll pass it in the House and then in the Senate – I'm told by some of the Senate leadership that they don't think they have the votes to repeal it. People ought to talk to Sen. Carl Levin, he's the key guy who's our great ally."
He added:
"[Obama's] not being for it will give people an excuse to not vote for it. Thing is – we've done hate crimes. We do ENDA. It's a big agenda all at once. At this point – the President's refusal to call for repeal this year is a problem."
Why is it a problem? Democrats could lose many seats in the upcoming November elections, putting all pending LGBT legislation at risk. I'd say it's a problem for the Human Rights Campaign as well, who have the President's ear and have been insisting all year that there's a "clear path" to repeal.
On ENDA, Frank urged people to lobby their congressmen: "Sending in your own individual letter is the best or your own email or go in to see them. Sending the same copy of a letter – it's better than nothing. Signing a petition is least important because it doesn't indicate that much activity."