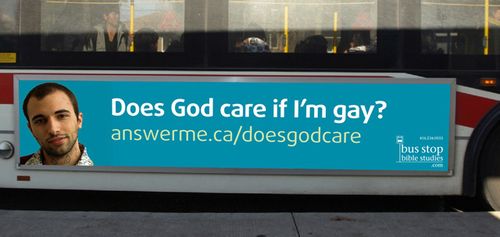 A Christian group called Bus Stop Bible Studies has voluntarily removed a set of advertisements from Toronto buses, along with an associated homophobic website which answered questions like, 'Does God heal homosexuals?' and 'Is AIDS God's punishment against homosexuals?'.
Torontoist has the details. They report:
"While Torontoist could not reach the group's president, David Harrison, for comment, [Toronto Transit Commission spokesman Brad] Ross said that Bus Stop Bible Studies' request to remove the ads was made sometime between Wednesday night and early Thursday morning. As reported in the Star on Wednesday, the original content of the website was replaced yesterday with an apologetic dispatch that 'It seems that the whole message of God's justice and grace was being misinterpreted,' in addition to a note from the question's alleged creator explaining that he 'does not endorse or agree with the response' provided by Bus Stop Bible Studies, but 'understand[s] the answer's origin.'
According to Ross, it will take advertising agency CBS Outdoor a few days to completely remove the 'Does God care if I'm gay?' ads from the vehicles."
Toronto Transit Commission objections led to the removal of the ads, the National Post reports. Said Ross: "The TTC has an obligation under the Ontario Human Rights Code not to refuse religious advertising. [But] the website content that this ad pointed to was not appropriate."