Friends and colleagues have gauged Foley's interest in running for mayor in West Palm Beach, Florida, the Palm Beach Post reports: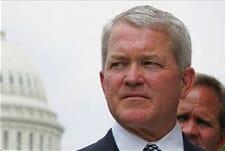 "Foley said he is still a long way from running for elected office, but he wouldn't rule out the mayoral run.
'I keep hearing the buzz,' Foley said. 'But there's no plan in place.'
Foley said he's not sure what other potential candidates, especially Commissioner Kimberly Mitchell, are planning. Mitchell and Foley are long-time friends, and if she decides not to run, it could open up a spot for Foley.
Despite Foley's baggage from the page scandal that forced him to resign his US Congressional seat in 2007, Foley has reemerged on the political scene as a fundraiser and host of a local radio show."