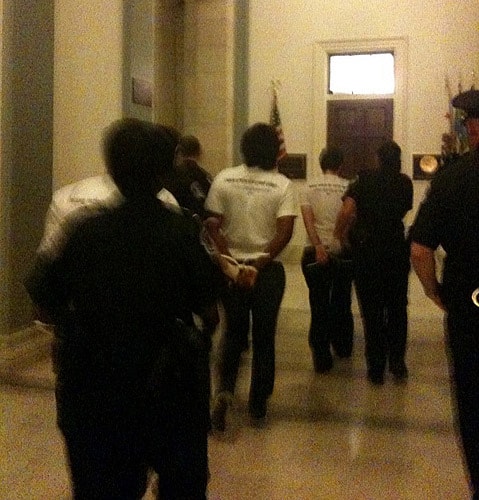 Jay Carmona, Samantha Ames, Chas Kirven, and Michelle Wright, four activists from GetEQUAL who staged a sit-in in Nancy Pelosi's office on March 18 to urge her to bring the Employment Non-Discrimination Act to the House floor for a vote, will be arraigned today.
"Activists will gather outside the District of Columbia Superior Courthouse today in solidarity with four women arrested during a sit-in at Speaker Nancy Pelosi's Washington office two weeks ago. Tired of false promises to pass ENDA, which would provide basic employment protections for lesbian, gay, bisexual and transgender Americans, the four women refused to leave the office without a guarantee that the bill would be brought to a vote. They were ultimately arrested for unlawful entry and face arraignment today on misdemeanor charges.
ENDA legislation has been stuck in the House Committee on Education and Labor since last year and another promise that it would be brought to the House floor for a vote in March did not happen."
Said GetEQUAL's Kip Williams: "These women face arraignment while Speaker Pelosi has still not made a commitment to make employment non-discrimination a reality. This from a woman who serves a constituency base that expects nothing less than her full commitment to speak for equality."
(image via GetEQUAL)