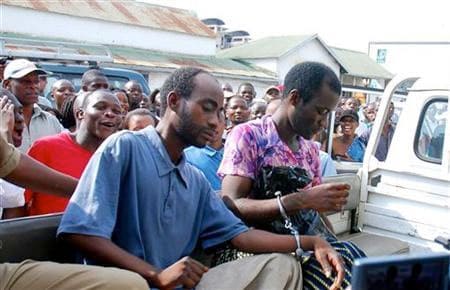 Madonna, who is in Malawi currently on a charity trip to launch an education campaign based on mobile technology and oversee the construction of the school she has funded there, has the opportunity to speak out in support of gay couple Steven Monjeza and Tiwonge Chimbalanga, who have been jailed since December for holding an engagement ceremony.
The couple's trial starts TODAY.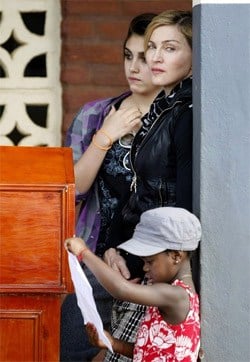 Reuters (IRIN) reports: "The case, which has drawn international criticism of Malawi's laws, is set to begin on 6 April after a magistrate decided there was sufficient state evidence to proceed. The couple face up to 14 years in prison if they lose.
The court case – which is rare in a country where most people charged with same-sex acts plead guilty due to lack of legal representation – has sparked intense public scrutiny and police crackdowns, increasing the risk of arrest and harassment for MSM, and decreasing their access to vital HIV prevention services.
'This case has put us in an awkward position in terms of our programming,' said Gift Trapence, director of the Centre for the Development of People (CEDEP) a human rights organization.
'Police are more empowered to arrest people, so it is very hard for the MSM community to come to meetings. It's also become very hard even for the organization to distribute HIV/AIDS information [to them] because that will be regarded as promoting something illegal … that's what the media and the church and the government officials are saying.'"
NYT: "The singer is on a trip with her Raising Malawi charity she began in 2006, and will watch the first bricks laid down at her school, The Raising Malawi Academy for Girls, located in Chinkhota village about 15 kilometers outside the capital, Lilongwe, according to the charity's website.
Madonna also will visit the Millennium Village — a United Nations-backed project to fight poverty — along with economist Jeffrey Sachs and CEO of consumer electronics firm Ericsson Hans Vestberg. She and Vestberg will formally announce an education campaign on Tuesday."
Calls for the gay couple's unconditional release by Amnesty International have gone unanswered.
If human rights, gays and lesbians, and the health of the nation of Malawi are that important to Madonna, she should speak out in support of this jailed couple, whose situation, according to the Reuters report above, is not only intolerable from a human rights standpoint, but is worsening the AIDS crisis in Malawi.
As a celebrity with a high profile in the country who is visiting at this opportune time at the beginning of this couple's trial, she has the power to make a difference, and should.
ALSO:
The International Gay and Lesbian Human Rights Commission has called on LGBT people and advocates from around the world to write the couple and show their support. Said a spokesman: "It is clear that local, regional and international attention to this case has helped lessen the physical and verbal abuse that the two had experiences in the early days of their incarceration."
Which is another reason Madonna should speak out.
Write to Tiwonge Chimbalanga and Steven Monjeza at: 
Chichiri Prison, P.O. Box 30117, Chichiri, Blantyre
Malawi