Rep. Bart Stupak (D-MI) will announce he's retiring at a press conference at 12:30 pm today, CBS News reports: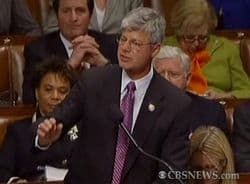 "Had Stupak sought re-election, he would have faced challengers from both the left and the right backed by interest groups angered by Stupak's health care vote.
Stupak negotiated with Democratic leaders down to the eleventh hour for stricter abortion language in the health care bill, but he ultimately voted for it after President Obama agreed to sign an executive order assuring the new laws will keep taxpayer dollars from funding abortions.
That prompted the conservative Tea Party Express to launch a $250,000 ad campaign against Stupak this week. The group also scheduled a handful of stops on its bus tour in Stupak's district."
Rep. Randy Neugebauer (R-TX) hurled the epithet "baby killer" at Stupak following passage of the health care reform bill.