Yesterday, John Aravosis at Americablog reported: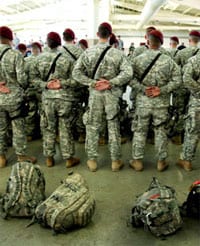 "Joe and I were just informed that the White House congressional liaison office is telling US House members not to include the repeal of 'Don't Ask Don't Tell' in the Defense Authorization bill, and not to have a vote on DADT on the House floor, this year. This would be at odds with the promise the President made in the State of the Union to repeal DADT this year, but it would be consistent with all other signs coming from the White House."
Later, Chris Geidner at Metroweekly and Americablog said they each received a statement from an "unnamed White House official" rebutting that claim. Said the anonymous source: 
"These rumors are blatantly false. The President has been clear in his desire to see Congress repeal Don't Ask, Don't Tell, and the Department of Defense is already moving forward with its own review. The Office of Legislative Affairs continues to engage lawmakers, and at no time has the White House asked any Member to take this issue off the table."
Geidner also received a statement from Barney Frank's office: "We have heard no word of that whatsoever. From what I can tell you, that's just wrong."
Frank, however, was openly critical of White House leadership on the DADT repeal in a recent interview with LGBT POV.
Americablog says they stand by their source: "If the White House thinks it's a lie to say that they're not on board, then there's a really easy solution. Get a senior White House official, on the record, by name, to go public and tell us that President Obama wants to have the repeal legislation included in the Department of Defense authorization so that DADT is repealed this year. And, have Obama send that message to the Hill through his budget requests. Then, we'll believe it. Otherwise, we're sticking with our sources who have been consistently more reliable on LGBT issues than this White House or any of their apologists."