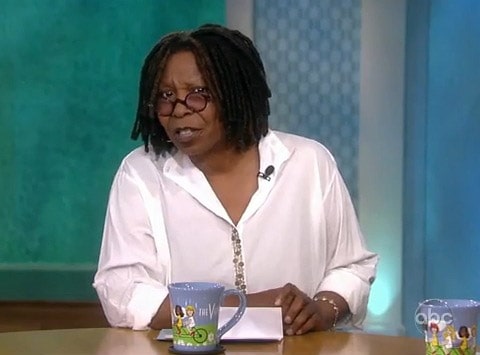 In a segment on The View this morning, the ladies discussed Mike Huckabee's recent remarks comparing same-sex marriage with incest and polygamy and warning gays who want to parent that "children are not puppies."
Whoopi Goldberg expressed disbelief that Huckabee, "a smart guy," would say such a thing. Well, she obviously doesn't know Huckabee too well then. In short order, Joy Behar and Sherri Shepherd pointed out the hateful nature of his religious bigotry.
Watch it, AFTER THE JUMP…
Huckabee responded to the headlines the recent interview with the College of New Jersey's paper The Perspective has brought him by releasing a statement trying to discredit the student journalist who did it.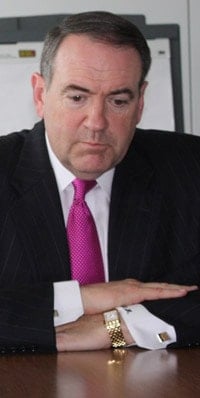 Said Huckabee: "The young college student hopefully will find a career other than journalism. I would ask that he release the unedited tape of our conversation. I believe that what people do as individuals in their private lives is their business, but I do not believe we should change the traditional definition of marriage. Not only did he attempt to sensationalize my well known and hardly unusual views of same-sex marriage, he also inaccurately reported my views on Michael Steele as GOP chairman – I offered my support and didn't 'Rip into Steele' as his article asserted. I had a candid and frank conversation with the group about health care, education, the economy and national security while the young journalism student, instead, chose to focus on the issue of same-sex marriage and grossly distort my views."
Huckabee has apparently no qualms with the statements he made advising gays who want to be parents that "children are not puppies."
In response, The Perspective released the tape of the Huckabee interview, saying, "Huckabee's problem seems to lie more in the focus of the article, which is centered partially on LGBT issues. We feel that same-sex marriage, laws prohibiting gays and lesbians from adopting children, and 'Don't Ask Don't Tell' are legitimate policy concerns about which to question national political figures. Gov. Huckabee may disagree.But regardless, his words speak for themselves, and it is a shame that he is now so quickly embarrassed of them.Further, Huckabee's claim that he defended RNC Chairman Michael Steele is simply not true.Have a listen. (Things are a bit out of order — in the interest of getting this out there, we had to improvise.)If you can tell what was "grossly distorted," please let us know."
Watch the segment from The View, AFTER THE JUMP…