Dick Cheney goes to Riyadh, mysteriously…

Gay Episcopal Bishop Gene Robinson writes letter to Pope Benedict.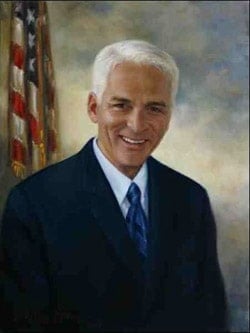 Florida GOP's official Charlie Crist portrait put up for sale on eBay.

James Franco dodges questions about his sexuality at Tribeca Film Festival panel.

Texas Governor Rick Perry blames Gulf oil spill on God, not Halliburton or BP: "Perry questioned whether the spill was 'just an act of God that occurred' and said that any "politically driven" decisions could put the U.S. in further economic peril.
'From time to time there are going to be things that occur that are acts of God that cannot be prevented,' Perry said."

Right whales fail to appear in Rhode Island waters.

West Hollywood City Council votes to boycott Arizona.

ACLU joins New Jersey's marriage equality lawsuit: "The brief cites the evidence that civil unions have not provided the equal protection the court promised in 2006, when it issued a ruling in the first iteration of this case. Since then, couples in civil unions have learned firsthand that an institution so poorly understood cannot actually protect their rights. Couples have found themselves justifying their relationship to those with influence over their lives – from their children's public school teachers to the administrators of county hospitals – who understand marriage, but not the separate new structure created only for them."

Arjan interviews Toni Braxton about her gay fans and bowling with Lady Gaga.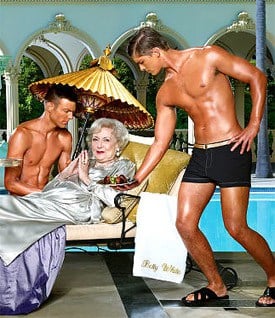 Betty White and her harem.

GOProud executive director Jimmy LaSalvia appears at Temple University: "The premise of my whole discussion and the premise of the existence of our organization is that HRC and the gay left don't speak for everyone. Their priorities aren't necessarily the priorities of everyone in the gay community. If the No. 1 issue for gay and lesbian voters was hate crimes and ENDA, then 1.3 million gay people would not have voted for John McCain, because he did not support those pieces of legislation."

New gay mag, Zeus, launches.

Profile on NY LGBT activist group Queer Rising: "I would say our group is younger. People are just fed up, that's basically it. It's people who are just fed up with the old lobbying and just sitting back and hoping that our rights will eventually come to us."'

Guess who's performing at the MTV Movie Awards?

Guess who wants to sing at the VMAs?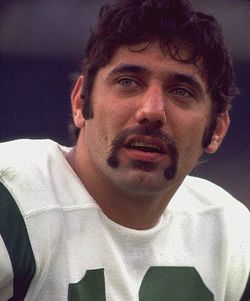 It's Moustache May.

Tom Brady slicked up for the Met Costume Institute Gala.

Ricky Martin thanks gay activist and NGLTF communications manager Pedro Julio Serrano for all the work he does for the community.

Spencer Tunick gets more people to strip again: "One thousand people took part in the installations on Saturday and yesterday, a tribute to L. S. Lowry, a former local, and painter of matchstalk men hunched against bleak industrial backgrounds."

Weatherman: the forecast is, uh, penis…

Hawaii lawmaker Blake Oshiro came out of the closet shortly before the civil union vote: "Hawaii State Rep. Blake Oshiro has never before talked to the media about his own sexual orientation, but Friday he broke his silence, telling local ABC affiliate KITV he decided to bring up a civil unions bill for action in the House only the night before it finally passed. Oshiro said his being gay didn't influence his decision to push the bill one last time, explaining he's always been a vocal supporter of the measure." Video.