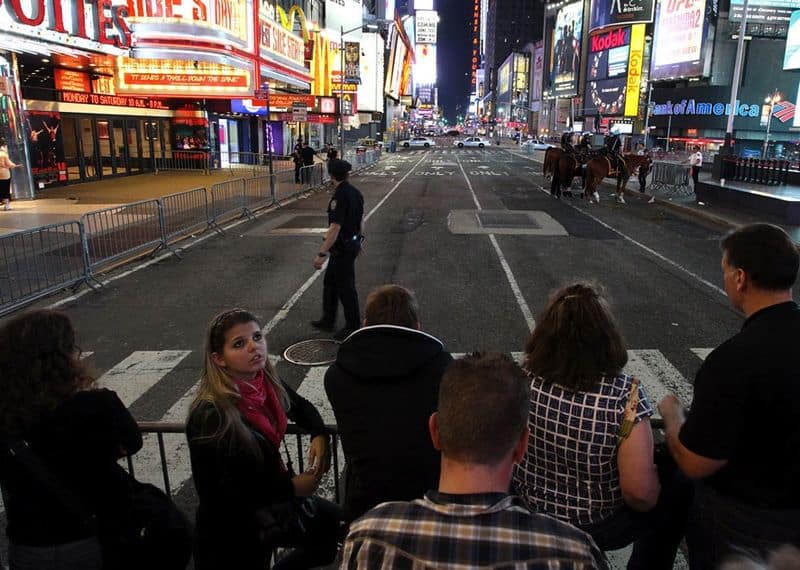 A car packed with crude explosives was found parked near 45th and Broadway last night forcing NYC police to shut down Times Square. It was a quick-thinking T-shirt vendor who alerted police after spotting smoke coming from a Nissan Pathfinder.
The vendor called to a mounted police officer, the mayor said, who smelled gunpowder when he approached the S.U.V. and called for assistance. The police began evacuating Times Square, starting with businesses along Seventh Avenue, including a Foot Locker store and a McDonald's.

Police officers from the emergency service unit and firefighters flooded the area and were troubled by the hazard lights and running engine, and by the fact that the S.U.V. was oddly angled in the street. At this point, a firefighter from Ladder 4 reported hearing several "pops" from within the vehicle. The police also learned that the Pathfinder had the wrong license plates on it.

Inside, they discovered three canisters of propane like those used for barbecue grills, two five-gallon cans of gasoline, consumer-grade fireworks — the apparent source of the "pops" — and two clocks with batteries, the mayor said. He said the device "looked amateurish."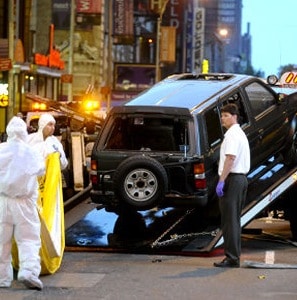 Police say that the car comb "appeared it was in the process of detonating, but it malfunctioned."
Homeland Security Secretary Janet Napolitano on the incident: "We're treating it as if it could be a potential terrorist attack."
Police are investigating and searching for a suspect. Times Square has since been reopened.
The white fedora-wearing T-shirt vendor is being praised a hero.
Watch the 2:15 AM news conference with Mayor Bloomberg, AFTER THE JUMP.