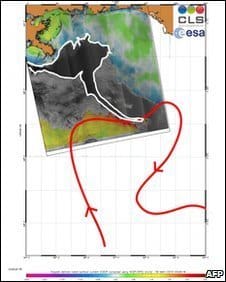 That satellite photo I posted yesterday of the oil slick in the Gulf with a newly-formed tail? It shows that the oil has reached the loop current that will take it around Florida toward the Gulf Stream, scientists say.
"The European Space Agency said satellite images suggested oil could reach the coral reefs of the Florida Keys within six days.
"We have visible proof that at least oil from the surface… has reached the current," said Dr Bertrand Chapron.
The ESA images show a stream of oil extending south into the Loop Current…ESA scientists described the Loop Current as a "conveyor belt" that joins the Gulf Stream, the most important current in the northern hemisphere.
If oil is dragged into the Gulf Stream, it could be carried up the east coast of the US, they said.
The scientists warned that the turbulent Loop Current could mix the oil and water, making it difficult to track the oil's progress in the coming days.
"This might remove the oil film on the surface and prevent us from tracking it with satellites, but the pollution is likely to affect the coral reef marine ecosystem," Dr Fabrice Collard said."