Despite the fact that anti-gay and anti-Hispanic slurs were used during the attack, no hate crime convictions were handed down in the guilty verdict against Hakim Scott, who was acquitted of murder and convicted of first-degree manslaughter and first-degree attempted assault in the death of Ecuadorean immigrant Jose Suchuzhanay:
Gay City News reports: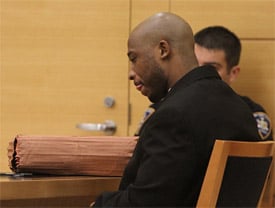 The jury deliberated for no more than two hours on May 5 and for, at most, five more on May 6. On that second day, the jury asked to see Sucuzhanay's autopsy report.Scott, 26, faced multiple counts of second-degree murder, manslaughter, assault, and attempted assault, with some charged as hate crimes. He was found guilty of first-degree manslaughter and first-degree attempted assault, neither as hate crimes.Allegedly, anti-gay and anti-Latino slurs were used during the assault, but Scott's jury rejected the hate crime element and they declined to convict Scott on second-degree murder, the most serious charge he faced.'This was never about hate, this was never about prejudice,' Newman said. 'This was a fight with two men who were intoxicated on the street in Brooklyn.' Scott's prison time could be onerous. A manslaughter sentence can be up to 25 years and attempted assault can be up to 15 years. He would have to serve six-sevenths of the time before being eligible for release. It is possible that he would have to serve the sentences consecutively, which would increase his minimum time in prison."
Scott's accomplice, Keith Phoenix's trial ended on May 6 and the jury is deliberating.
The New York City Anti-Violence Project is understandably furious:
"This verdict is a bold indicator of the lack of understanding of what hate crimes are, what they mean to victims and their loved ones, and to the effect they have on communities. Some of the last words Jose Sucuzhañay heard were full of vitriol and hate spewed by two men who targeted them based upon nothing more than their perceived identity, yet this was not a clear enough indication to a jury that they should have handed down a hate crime verdict. Something is terribly wrong with how this society sees the rights to safety for LGBTQ people.'Through education efforts, we can counter these messages and promote safety and respect for all. Without such education, this type of violence will continue and only escalate' said Kim Fountain, AVP's Deputy Director, 'AVP firmly holds that the city and state must invest in public education around hate violence. The violence carried out against the Sucuzhañays sent the message that members of LGBT and Latino communities are not safe. The verdict only amplified this message.'"
Sean Chapin made a video about the lack of a hate crime verdict. 
Watch it, AFTER THE JUMP…