New recently-released records show that the late Senator Jesse Helms called in the FBI over threats from gays: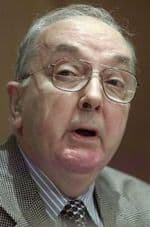 "The FBI file on Helms, a polarizing figure who actively fought against the civil rights movement, was comprised mostly of agents investigating death threats, according to more than 1,500 pages released to The Associated Press under a Freedom of Information Act request. Helms died July 4, 2008.
'All senators and congressmen get threats periodically. Most of it's not serious,' said Jesse Helms Center director John Dodd, who began working as a political consultant for Helms in the early 1980s. 'It certainly wasn't something he talked about much.'
The threats came from gay rights activists, supporters of an indoor smoking ban, and many others who expressed no cause. One man carried a hit list and a .357 Magnum handgun into a 1991 Senate hearing, though documents indicated Helms wasn't the primary target of a man out to "penalize" lawmakers for the expulsion of State Department personnel from Moscow."
But wait, I thought he was a gay rights hero?