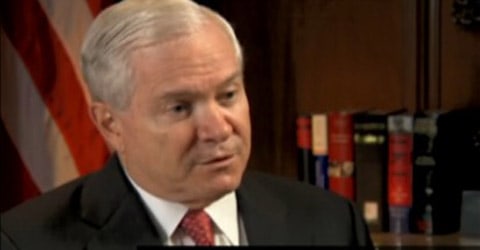 In an interview with CNN's John King, Defense Secretary Robert Gates pushes back at criticism that repeal efforts are moving too slowly.
Says Gates: 
"I know there's some that are suspicious out there that this is some kind of effort to slow roll this process. But as I said in that testimony, I've led several huge public institutions and I've led change in every one of them and there's a smart way to do change, and there's a stupid way to do change. This one has to be done smart.  And I think it's only fair as we get ready to make this change that we give our force the opportunity to tell us how they feel about it, for us to find out their concerns, for us to identify the challenges we're going to face if Congress does change the law, and how we will go about doing that, and how we will mitigate negative consequences by what we hear from the force. And so I've said this is not about whether, but about how, and that continues to be our position."
Watch, AFTER THE JUMP…
Gates doesn't care if the window is missed for DADT repeal.
Chris Geidner at MetroWeekly has a report on what went on yesterday as LGBT veterans prepared for today's Lobby Day at the Capitol, holding meetings at both the Pentagon (with the DADT working group) and the White House.
Here's a bit of his piece:
After the meeting, Jason Knight, who served in the Navy but was discharged under DADT, was obviously impressed by the working-group members he met: ''They're really dedicated to doing it, and doing it right.''

Knight also spoke to concerns that the working group might not get needed input from gay and lesbian servicemembers because of the constraints of the current policy, which allows for the discharge of openly gay personnel.

''This was the very first meeting where we had LGBT veterans who were able to speak on behalf of those who can't,'' he said.

Leaving the Pentagon, another veteran noted that during the meeting he attended, there had been a moment when he felt that the working-group representatives gained a significant perspective of how the repeal of DADT would not be as thorny a transition as some opponents of repeal claim.

That moment, he said, came when a member of the military brass – in addition to Ham, participants said there were at least two other three-star generals at the meeting – asked the gay veterans if they would return to active service if DADT was repealed and nothing else kept them from rejoining.

All of them, he said, replied that they would.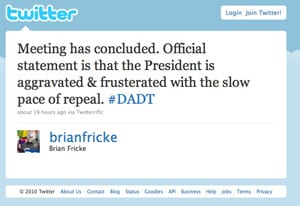 One of the Vets involved in Monday's activities tweeted this after the meeting at the White House: "Meeting has concluded. Official statement is that the President is aggravated & frusterated (sic) with the slow pace of repeal."
Well, there you have it. I mean, what can he do? It's not like he's the Commander in Chief or anything. Apparently Gates is running this show.
You can help support the Veterans at today's lobby day by calling Congress and amplifying their voices (via Pam):
It will only take a few minutes to call your Members of Congress:

Call the Congressional switchboard at 202-224-3121, tell them where you live, and ask them to connect you to your Representative's office. Tell the staffer who picks up: your name, where you're calling from, and that you're "calling to support the Veteran's Lobby Day that's happening today and urging Congress to repeal "Don't Ask, Don't Tell" this year."

After you've called your Representative, take another minute to call both of your Senators:

* Just as before, call the Congressional switchboard at 202-224-3121; ask for one of your Senators and when you're done, call back to get your other Senator.

This lobby day is one of our last chances to speak out before Congress takes action on the National Defense Authorization Act – the bill that should contain the "Don't Ask, Don't Tell" repeal language.
Watch the Robert Gates CNN interview, AFTER THE JUMP…