Lynch on gay actors playing straight:
The best moments of Sue Sylvester!
The full interview: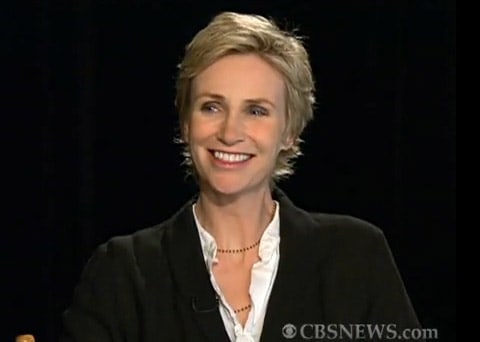 Katie Couric interviewed Jane Lynch for 30 minutes on @Katie Couric. 
Lynch also says she draws on an acting teacher she used to call "the dragon lady" when she plays Sue Sylvester and discusses why Sue's such a mean bitch.
Lynch talks about Madonna's reaction and praise for her and Chris Colfer in the Madonna episode:  "Chris and I held each other tenderly, we were so touched by it."
There's also a short clip from the interview in which Couric asks Lynch about Ramin Setoodeh's Newsweek interview. Says Lynch: "I play straight people all the time and nobody's upset about it."
Do you worry at all about the impact of being so open about your sexuality?
I have Ellen DeGeneres, and Melissa Etheridge, and, uh, all of them to thank for kind of paving the way. Rosie O'Donnell. So, it's not such a big deal anymore. You know what, I really don't think about it. It's not like I have a strategy of how I'm going to deal with my orientation. I'm kind of just very open about who I am and I'm more than just that…it is just one aspect of who I am and I would like it to be viewed that way for everybody."
Watch, AFTER THE JUMP…