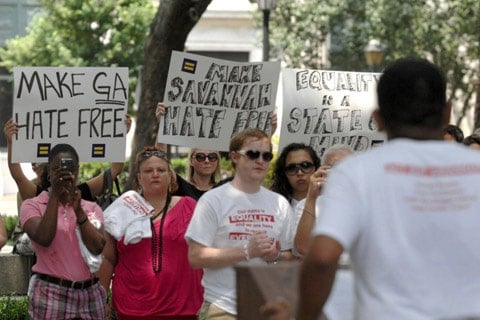 More than a hundred people gathered in Svannah, Georgia's Johnson Square yesterday to rally against hate crimes and draw attention to the beating of Kieran Daly by two U.S. Marines last week, the Savannah Morning News reports:
Savannah-Chatham police spokeswoman Gena Moore has said Daly and his attorney are expected to meet today with investigators for a long-awaited second interview, which will determine whether allegations against the two Marines, Keil Joseph Cronauer, 22, and Christopher Charles Stanzel, 23, warrant more serious charges. She said Daly also is expected to turn over his medical records to investigators.

Cronauer and Stanzel were arrested on the morning of June 12 on misdemeanor battery charges, moments after police found Daly unconscious near Johnson Square, according to a metro police report. They since have been placed on restriction at Marine Corps Air Station in Beaufort, S.C., partially for their own protection, Gunnery Sgt. Chad McMeen said Saturday night.

Daly was hospitalized because of a head injury and released from Memorial University Medical Center the night of June 13.

At the Sunday rally, Georgia Equality Savannah Chapter Director Kevin Clark said it is important for the community to realize how often gay residents are attacked because of their sexual orientation.

"It's important to realize the attack on Kieran was not the only one," Clark said. "There have been many, many, many more."

After a brief delay at the start of the rally, organizers, clergy and city leaders took turns at the lectern sharing at times tearful accounts of hate inflicted on the gay community. Supporters in the crowd held signs calling for an end to hate. One person was asked by Savannah-Chatham police officers watching over the event to remove a sign that carried an anti-heterosexual message.
Since the attacks, another man has come forward reporting an anti-gay beating in Savannah.