Also, Steve linked to this report over the weekend, but I thought I'd repost the video: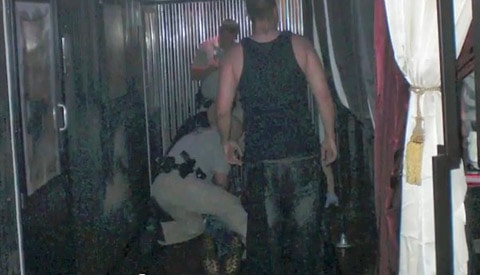 Things are different in Fort Worth a year after a brutal raid on a gay bar that took place, coincidentally, on the 40th anniversary of the Stonewall riots, the Fort Worth Star Telegram reports: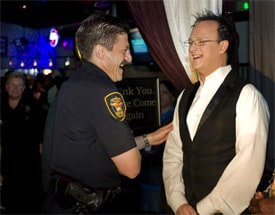 "One year after a visit by law enforcement officers to a near-south-side bar triggered a storm of protests, Police Chief Jeff Halstead (left), other officers and members of the gay community returned to share a barbecue dinner.On June 28, 2009, Fort Worth police and Texas Alcoholic Beverage Commission officers made five arrests during an inspection at the newly opened Rainbow Lounge on South Jennings Street. One patron suffered a serious head injury and was hospitalized…Now people on both sides say the incident was a turning point for Fort Worth.David Schrock (right), Rainbow Lounge owner, said he could not have predicted last year the unity that the gay community and the police showed Monday.Back then, 'all I could see was the war, the battle,' Schrock said. 'I never would have believed that it would have turned out this way.'Halstead said he was seeing a 'new togetherness' and 'a new respect for one another.'"
Meanwhile, a group is producing a documentary on the raid, and debuted a teaser trailer earlier this month:
"The teaser trailer played a sneak preview at QCinema, Fort Worth's Gay and Lesbian Film Festival in early June. Chief Halstead and his wife were in attendance at the screening.[The teaser trailer] 'had a deep emotional impact for those that were there and experienced the raid itself', says Kyle Trentham, Event Director for QCinema. 'Many in the audience were moved to tears and a few had to leave the theater to regain their composure.' The full length film is currently a work in progress, slated for a completion date in late 2010."
Watch the trailer, AFTER THE JUMP…