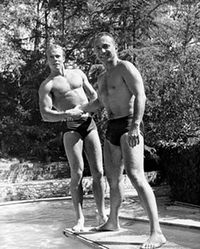 The AP reports on a new prize for emerging playwrights from the foundation of Gypsy and West Side Story playwright Arthur Laurents:
"An annual $150,000 prize has been established by the foundation of Tony-winning playwright-director Arthur Laurents and partner Tom Hatcher.
The Laurents/Hatcher Foundation Award will be given for an unproduced, full-length play of social relevance by an emerging American playwright.
The prize includes a $50,000 cash award for the selected playwright and a $100,000 grant for production costs of the play's premiere at a nonprofit theater. The foundation said Thursday it's the first major award for playwrighting to be named in honor of a gay couple."
Submissions will be accepted form June 15 to September 15.
Photo: Laurents and Hatcher in 1962. Hatcher died in 2006 of lung cancer.