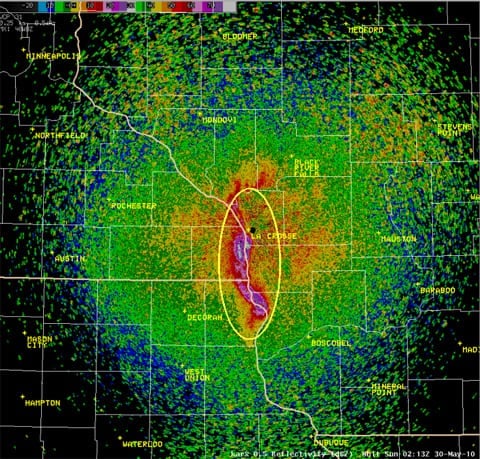 Mayflies come out to breed but once a year, but they come out in such sexual force, it can be detected (Quite well) on weather radar. Here's a recent radar image from LaCrosse, Wisconsin:
"A mayfly hatch along the Mississippi River was caught on Doppler radar out of NWS La Crosse this evening. The radar view below shows an image at 9:13 p.m. CDT on Saturday, May 29, 2010. The bugs are showing up as bright pink, purple, and white colors along the Mississippi River mainly south of La Crosse, WI. After the bugs hatch off the water and river areas, they are caught in the south-southeast winds while airborne for about 10-20 minutes."
The lifespan of a Mayfly typically lasts from 30 minutes to one day, but in that one day there's a whole lot of sex involved.