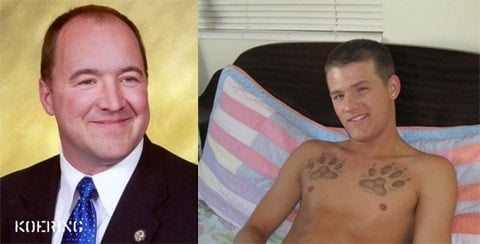 Openly gay Minnesota Republican state senator Paul Koering may suffer consequences from his date with gay adult film actor Brandon Wilde last weekend, the Brainerd Dispatch reports:
The report of Koering's dinner drew a response from Tony Sutton, the Minnesota Republican Party chair. The e-mail from Sutton's office had a statement and a link to The Minnesota Independent story.

"Instead of focusing his efforts on job creation and the betterment of Senate District 12, Paul Koering has demonstrated incredibly poor judgment by spending time with an escort and pornographic film star," Sutton's statement said. "With his campaign message of lower taxes, sensible government and economic development, Paul Gazelka is the right leader for Senate District 12, and the Republican Party of Minnesota stands united behind his candidacy."

Gazelka challenged incumbent Koering and was endorsed by Senate District 12 Republicans. Koering initially sought the endorsement but pulled out of that contest shortly before the convention, stating he would run in the Aug. 10 primary.

Koering, first elected to the Senate in 2002, told the public he was gay in 2005 and was re-elected in 2006. He had no response to Sutton's statement. "I just don't know what to tell you," he said.

Gazelka, contacted by the Dispatch, said he had mixed emotions regarding the news of Koering's dinner. He said he was surprised, shocked and disappointed. "One emotion I do not have is glee," he said. "I want to focus on reining in government spending and creating jobs in the private sector." Gazelka said neither he nor his campaign had any role in spreading the story about Koering. "No, not at all," he said. "I was very surprised when I first heard about it."

Asked if he thought it was wrong for the senator to have dinner with Wilde, Gazelka said it was inappropriate for any politician to have a date with any porn star. The former Republican state representative said is focus would not be on this story. He described the situation as a mess Koering created for himself.
Koering reportedly told Wilde that he wanted to be re-elected so he could make gay marriage legal in the state. Koering's record, however, tells a different story. The openly gay lawmaker last year voted against a gay rights bill and called marriage equality a "pointless" issue.