And Dunphy's work. The work was performed on May 29, 2010, at Grace and Holy Trinity in Kansas City, MO and First Presbyterian Church in Lawrence, KS. This video is taken from initial footage of the recording session on May 30, 2010, at Blessed Sacrament Church in Kansas City, KS. It's quite beautiful: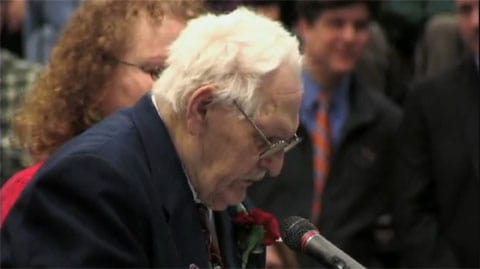 "What do you think I fought for at Omaha Beach?"
You probably remember the moving testimony given by World War II vet Philip Spooner at Maine's public marriage equality hearings in April 2009. Spooner's speech became a viral phenomenon, logging more than 600,000 views on YouTube.
His words have now been set to music by Elizabeth Dunphy.
Dunphy's friend writes us:
"Melissa Dunphy's new composition 'What do you think I fought for at Omaha Beach?' was selected as the winning work for the 2010 Simon Carrington Chamber Singers Composition Competition….The piece was selected from a pool of over 100 submissions, from over 70 composers, hailing from 10 different countries. In choosing the work from a narrowed-down, committee-selected pool of nine finalists, music director and conductor Simon Carrington gave his reasoning behind selecting Dunphy's work as the winner. 'There were plenty of excellent pieces in the sweet-sounding modern idiom which SCCS would make very beautiful, but the strongest (and most individual) piece was Melissa Dunphy's What do you think I fought for at Omaha Beach? — a bold and highly effective setting of a thought-provoking text.'"
I've posted both Spooner's original speech, and Dunphy's work, AFTER THE JUMP…