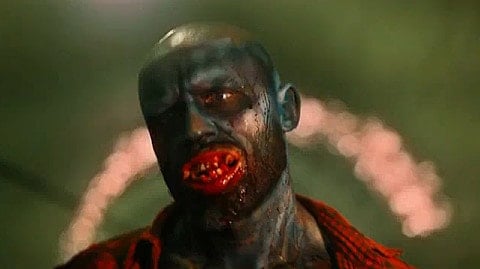 The Bruce LaBruce film L.A. Zombie, starring gay porn actor Francois Sagat, has been banned by the Melbourne International Film Festival, Reuters reports:
"The Australian Film Classification Board concluded that implied sex with corpses by an alien zombie in Los Angeles, breached local taste standards. 'L.A. Zombie' will receive a world premiere at the Locarno International Film Festival in Switzerland on August 5, before its North American bow at the Toronto festival in September, according to the film's producers. It was to have screened in Melbourne on August 7 and 8.Director Bruce LaBruce said the censors viewed only the softcore version of his film, 'which features no explicit anally penetrative sex.'"
Said LaBruce in a statement: "Although apparently the Australian Classification Board has no problem passing all manner of mainstream torture porn movies which feature, amongst other things, the rape and dismemberment of women, it's interesting that they have no stomach for a movie that reaffirms life."
You may recall Sagat as the subject of a crucifiction painting by Australian artist Ross Watson.
Watch an extended trailer for L.A. Zombie (graphic, some parts nsfw), AFTER THE JUMP…