YES – 56
Akaka (D-HI)
Baucus (D-MT)
Bayh (D-IN)
Begich (D-AK)
Bennet (D-CO)
Bingaman (D-NM)
Boxer (D-CA)
Brown (D-OH)
Burris (D-IL)
Cantwell (D-WA)
Cardin (D-MD)
Carper (D-DE)
Casey (D-PA)
Conrad (D-ND)
Dodd (D-CT)
Dorgan (D-ND)
Durbin (D-IL)
Feingold (D-WI)
Feinstein (D-CA)
Franken (D-MN)
Gillibrand (D-NY)
Goodwin (D-WV)
Hagan (D-NC)
Harkin (D-IA)
Inouye (D-HI)
Johnson (D-SD)
Kaufman (D-DE)
Kerry (D-MA)
Klobuchar (D-MN)
Kohl (D-WI)
Landrieu (D-LA)
Lautenberg (D-NJ)
Leahy (D-VT)
Levin (D-MI)
Lieberman (ID-CT)
McCaskill (D-MO)
Menendez (D-NJ)
Merkley (D-OR)
Mikulski (D-MD)
Murray (D-WA)
Nelson (D-FL)
Nelson (D-NE)
Reed (D-RI)
Rockefeller (D-WV)
Sanders (I-VT)
Schumer (D-NY)
Shaheen (D-NH)
Specter (D-PA)
Stabenow (D-MI)
Tester (D-MT)
Udall (D-CO)
Udall (D-NM)
Warner (D-VA)
Webb (D-VA)
Whitehouse (D-RI)
Wyden (D-OR)
NO – 43
Alexander (R-TN)
Barrasso (R-WY)
Bennett (R-UT)
Bond (R-MO)
Brown (R-MA)
Brownback (R-KS)
Bunning (R-KY)
Burr (R-NC)
Chambliss (R-GA)
Coburn (R-OK)
Cochran (R-MS)
Collins (R-ME)
Corker (R-TN)
Cornyn (R-TX)
Crapo (R-ID)
DeMint (R-SC)
Ensign (R-NV)
Enzi (R-WY)
Graham (R-SC)
Grassley (R-IA)
Gregg (R-NH)
Hatch (R-UT)
Hutchison (R-TX)
Inhofe (R-OK)
Isakson (R-GA)
Johanns (R-NE)
Kyl (R-AZ)
LeMieux (R-FL)
** Lincoln (D-AR) **
Lugar (R-IN)
McCain (R-AZ)
McConnell (R-KY)
** Pryor (D-AR) **
** Reid (D-NV) [procedural vote so he can bring the measure back up] **
Risch (R-ID)
Roberts (R-KS)
Sessions (R-AL)
Shelby (R-AL)
Snowe (R-ME)
Thune (R-SD)
Vitter (R-LA)
Voinovich (R-OH)
Wicker (R-MS)
Not Voting – 1
Murkowski (R-AK)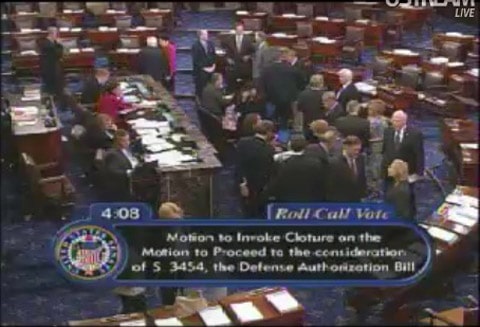 Efforts to repeal "Don't Ask, Don't Tell" faltered today as the Senate voted 56-43, refusing to approve a motion to invoke cloture and move to consideration of the National Defense Authorization Act, containing both the DREAM Act and the DADT repeal amendments.
60 votes were needed to proceed.
Very disappointing.
Senate Majority Leader Harry Reid voted "no" on the motion to invoke cloture, reportedly a procedural move so he can bring the bill back to the floor at some point for another vote. If Reid had voted "yes", that would not be possible.
Said Alexander Nicholson, founder and Executive Director of Servicemembers United:
"Today's vote is a failure of leadership on the part of those who have been duly elected to serve this nation and to put the best interests of the country ahead of partisan politics. The Senate could learn a good lesson from those who serve in uniform and who stand to benefit from proceeding to debate on this bill – serving this country means putting politics aside and getting the job done. It is simply inexcusable that this vote failed today."
Said Army veteran and SLDN Executive Director Aubrey Sarvis:
"Today's Senate vote was a frustrating blow to repeal this horrible law. We lost because of the political maneuvering dictated by the mid-term elections. Let's be clear: Opponents to repealing 'Don't Ask, Don't Tell' did not have the votes to strike those provisions from the bill. Instead, they had the votes for delay. Time is the enemy here. We now have no choice but to look to the lame duck session where we'll have a slim shot. The Senate absolutely must schedule a vote in December when cooler heads and common sense are more likely to prevail once midterm elections are behind us. Servicemembers Legal Defense Network will continue to take this fight to the American people, the vast majority of whom support repeal of 'Don't Ask, Don't Tell.'"
ROLL CALL, AFTER THE JUMP…