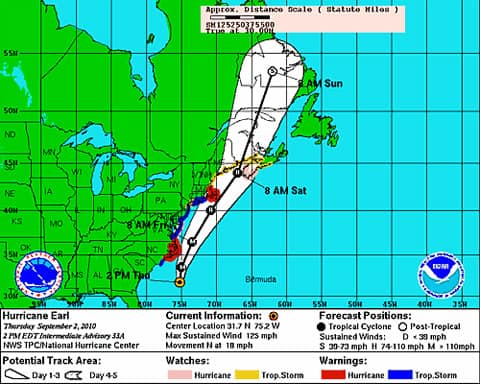 NYCers on vacation for Labor Day weekend be advised. As Hurricane Earl approaches New York, ferry service to some parts of Fire Island has been suspended, Michael Lavers reports:
"Fire Island Ferries will suspend service from Bay Shore at 3 p.m. tomorrow. It said ferries would resume early on Saturday, Sept. 4, once conditions improve. The Sayville Ferry Company told the News the 7 and 8 p.m. ferries to the Fire Island Pines tomorrow night are cancelled."
Since the above update, the midnight ferry to both the Pines and Cherry Grove has also been canceled, according to a message from the Sayville Ferry Service.
Those in Provincetown have a bit more to worry about according to the latest forecast.
A tropical storm warning is in effect for eastern Long Island, while a hurricane warning is in effect for the Cape and Islands of Massachusetts.