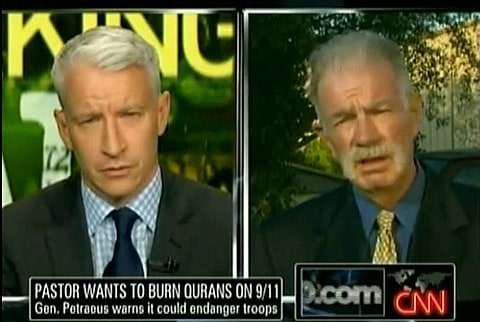 Anderson Cooper tried to get through to Qu'ran-burning pastor Terry Jones last night. A bit of the transcript:
COOPER: Do you consider yourself a bigot? 

JONES: No, not at all. And we do not consider our message a message of hate. 

It is — it is a clear message of warning. We have tried to make it very, very clear that, according to the United States Constitution, Muslims are more than welcome in America. They are welcome to worship. They are welcome to build mosques. 

We have made that very, very clear. I understand they're not in agreement. And they're mad and angry. They're — they're — they're insulted because we are burning the Koran, but they should, indeed, be with us on the fact that radical Islam is bad. It is evil. We do not want it in this country. 

COOPER: Well, I — I — I think the vast majority of Muslims in the United States would agree that — that extremism and radical Islam is a bad thing. And many of them have worked to — to fight it.

But I asked about the bigotry, because the definition of a bigot that I just got off Dictionary.com is a person who is intolerant of any ideas other than his or her own, especially on religion, politics or race. 

You do appear to be remarkably intolerant on any ideas other than your own regarding religion. 

JONES: We are — as the Bible teaches, as Jesus teaches, we are intolerant, yes.
Watch, AFTER THE JUMP…