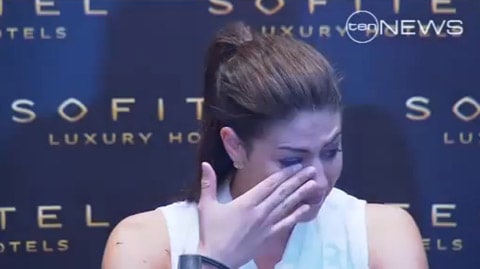 Australian medal-winning swimmer Stephanie Rice held a press conference yesterday to apologize for a tweet she posted ("suck on that faggots – probs the best game I've ever seen – well done boys") following a rugby game. The anti-gay slur in the tweet ignited a firestorm, and caused her to lose a major sponsor, Jaguar.
"My comments were thoughtless and careless but I can assure you when I made those comments on Twitter I never intended to offend anybody," she told a specially convened news conference in Sydney. I've learned a lot in the last couple of days. I've learned I must think before I speak and this has been a very important lesson. I've also learned that some things you say can mean more to others than they do to you…I felt I've let a lot of people down. I just want people to know how sorry I am. I'm just here to gain people's trust back and show how out of character it was."
Gay Olympic  diver Matthew Mitcham came to Rice's defense on twitter: 
"I agree, it was offensive & very thoughtless, but being friends with her for 2yrs, I know she is not homophobic…She meant no malice, & she has apologised for her careless comment posted in the excitment of the moment….That's enough for me to forgive a friend…She's not a homophobe. She luvs gays but used very ill-chosen language…I don't in any way support or condone WHAT she said, but her apology & remorse is genuine & we are gd friends."
Watch 10 News' report on the presser and their interview with gay former rugby star Ian Roberts, AFTER THE JUMP…