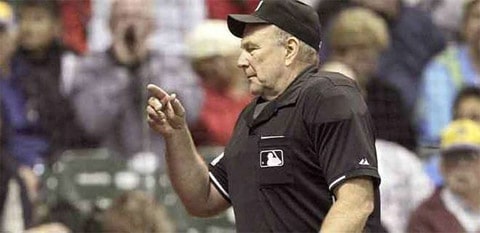 MLB umpire Bob Davidson ejected a fan from a Milwaukee Brewers game on Tuesday night after the fan hurled a homophobic slur at St. Louis Cardinals catcher Yadier Molina, the AP reports:
"Davidson said he decided to throw out 44-year-old Sean A. Ottow of Waukesha, Wis., in the bottom of the seventh inning Tuesday night because he wanted to make sure Molina wouldn't do something to escalate the situation…Ottow had said he had been talking to Molina all evening, but the umpires said several Brewers players mentioned how drunk Ottow seemed. When an usher asked Ottow to leave, he stood and posed with his arms in the air to cheers from fans. Ottow was cited for disorderly conduct by police. In Milwaukee, that typically draws a $185 fine."
Said Ottow: "I never swore at him. He just got the umpire to throw me out. We were bantering back and forth and I guess Molina couldn't take it anymore. You'd think these guys would have tougher skin than that.''
Some are saying Davidson exceeded his authority.
Outsports' Jim Buzinski agrees.
Said Davidson: "Molina, I thought he was going to go toward (the fan) and I said, 'I'll take care of it,'…I was going to wait until between innings and not be so obvious, but I figured after he said that, he was very intoxicated, I needed to take care of it."