Gen. James F. Amos testified before the Senate Armed Services Committee panel today regarding Obama's nomination of him as commandant of the Marine Corps, and spoke out against repealing 'Don't Ask, Don't Tell', the AP reports: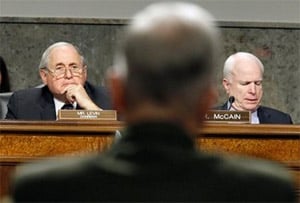 "President Barack Obama's choice to lead the Marine Corps told the Senate Tuesday that Congress should not repeal the law barring gays from serving openly in the military, dealing a blow to gay rights advocates just hours before a crucial test vote…. Amos told the Senate Armed Services Committee he worried that a shake up in personnel policy would serve as a 'distraction' to Marines fighting in Afghanistan. 'My primary concern with proposed repeal is the potential disruption to cohesion that may be caused by significant change during a period of extended combat operations,' he said in a written statement provided to the panel for his confirmation hearing. During one exchange with Sen. Pete Sessions, R-Ala., Amos said he would implement any changes in the law on gay service made by Congress. He said the Marine Corps would rely on discipline and leadership to ensure order, but that he didn't envision a gag order on troops who disagreed with revoking the ban. Some Republicans have suggested they fear troops who openly oppose gay service would be punished for speaking out. 'I don't see this as a racist issue,' Amos said. 'I see this as an anxious issue … because we don't have the answers yet.'"
Key senators remain uncommitted on breaking McCain's filibuster today, according to SLDN: George Lemieux (R-FL);  Susan Collins (R-ME); Olympia Snowe (R-ME); Mark Pryor (D-Ark.); Richard Lugar (R-IN); Judd Gregg (R-NH); Jim Webb (D-VA); George Voinovich (R-OH); Kit Bond (R-MO).
The number for the Senate switchboard is (202) 224-3121. Call your senator now.
Vote is at 2:15 pm.