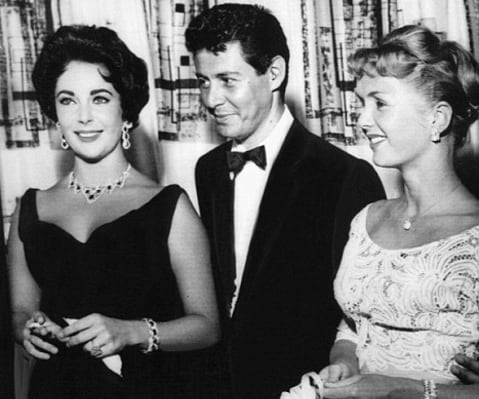 Some bad news for music fans: legendary crooner Eddie Fisher, known today perhaps for his marriages to Debbie Reynolds and Elizabeth Taylor, has died at the age of 82 after suffering complications from a hip surgery.
Born and raised in 1928 in Philadelphia, Fisher's career took off in the 1950s, when he had a string of aural hits, including "Oh, My Papa" and "I'm Always Hearing Wedding Bells."
Fisher's fame only multiplied in 1955 with his marriage to Debbie Reynolds, a five-year union that birthed two children, including Star Wars actress Carrie Fisher, who, along with the rest of the family, released the following statement: "Late last evening the world lost a true America icon. One of the greatest voices of the century passed away. He was an extraordinary talent and a true mensch."
Fisher caused a scandal in 1960, however, when he divorced Reynolds for her friend, the equally famous Elizabeth Taylor, who eventually left him for Richard Burton. Fisher's career fizzled after that, although he went on to marry the actress Connie Stevens and had two more children, daughters. Unfortunately, that didn't work out, and Fisher ended up in two more marriages.
Fisher attempted a comeback in the 1980s, but his attempts never panned out. He did, however, have a bestseller with his autobiography, "Been There, Done That," in which he claimed Reynolds "bullied" him into marriage, an "admission" that severely alienated him from his family. 
AFTER THE JUMP, one of Fisher's most famous songs, "Tell My Why;" they don't make voices like this anymore…