Visit msnbc.com for breaking news, world news, and news about the economy
Visit msnbc.com for breaking news, world news, and news about the economy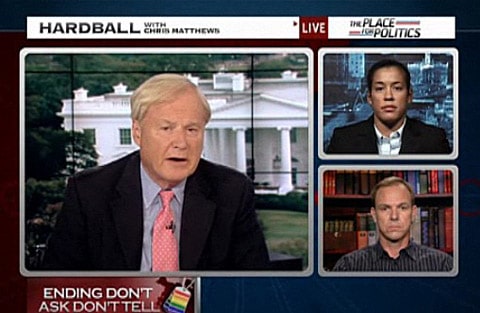 Chris Matthews did two segments on "Don't Ask, Don't Tell" tonight. The first is an opinion segment.
Said Matthews: "The social acceptability of anti-gay bias is rapidly dimishing, just as it did in the years after World War II towards Catholics and also for Jewish people and sadly, only gradually for African-Americans."
In the second segment, Matthews talks to Air Force veteran Matthew Alexander and former West Point Cadet Katherine Miller. Matthews was pessimistic that 60 votes are there in the Senate to stop a filibuster.
Watch both clips, AFTER THE JUMP…