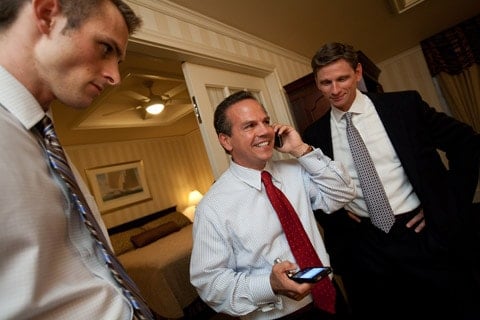 A few primary election results here. If you've got more you would like me to post, please put them in the comments.
THE GOOD

David Cicilline (above) wins Democratic primary in Rhode Island's 1st Congressional District: "The 49-year-old Providence mayor cruised to a comfortable victory Tuesday, winning more than a third of the vote in a hard-fought four-way race, according to unofficial election results."
Said Victory Fund CEO and President Chuck Wolfe of Cicilline's win: "Adding more authentic LGBT voices to Congress is a Victory Fund priority, and Mayor Cicilline's win tonight puts us one giant step closer to doing just that.  When he wins this November, he will join Tammy Baldwin, Barney Frank and Jared Polis as the only openly gay and lesbian members of Congress—our greatest champions for real change and real progress toward full equality.  We're proud to have supported Mayor Cicilline throughout his political career, and thrilled about this historic victory."

Anti-gay New York state senator Bill Stachowski, a Fight Back NY target, is defeated.

Maryland could see seven gay and lesbian state lawmakers.
THE BAD

State Senators Ruben Diaz, Sr. and  Shirley Huntley win handily in New York.

Trans candidate Dana Beyer concedes General Assembly race in Maryland.

Pro-gay DC Mayor Adrian Fenty loses re-election bid. What happened?
THE UPSETS

Teabagger, 'ex-gay' supporter, and masturbation foe Christine O'Donnell upsets Mike Castle in Delaware GOP Senate primary.
CLOSE RACES

 Eric Schneiderman edges out Kathleen Rice to win NY Attorney General primary.
(image below via Fight Back NY)