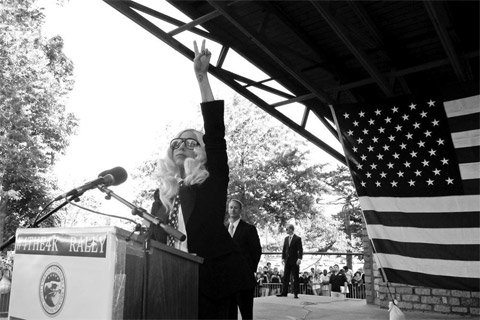 (photo terry richardson)
Servicemembers Legal Defense Network and Lady Gaga today held a rally to pressure Maine Senators Olympia Snowe and Susan Collins to end a GOP filibuster on "Don't Ask, Don't Tell.
Watch Lady Gaga's speech, AFTER THE JUMP…
Said Gaga: "Equality is the prime rib of America. But because I'm gay I don't get to enjoy the greatest cut of meat my country has to offer."
"More than 2,000 people attended a rally at Deering Oaks Park, where the Grammy Award-winning singer stood alongside Air Force, Army and Marine veterans who were discharged because of the policy, which prohibits service members from revealing if they're gay and recruiters from asking about people's sexual orientations. Lady Gaga railed against what she called the injustice of having goodhearted gay soldiers booted from military service while straight soldiers who harbor hatred toward gays are allowed to fight for their country. She suggested a new policy should target straight soldiers who are 'uncomfortable' with gay soldiers in their midst. 'Our new law is called 'If you don't like it, go home!' she said."
Senate Majority Leader Harry Reid has scheduled a vote for tomorrow at approximately 2 pm.
Already there are rumblings that Reid will set aside a final vote on the Defense bill until after the midterms.
Watch (in two parts, AFTER THE JUMP…