UPDATED BELOW
Some information from the New York City Anti-Violence Project:
"AVP has just learned of an attack which occurred at Julius Bar, New York's oldest gay bar, on West 10th Street in New York City's West Village neighborhood. On Saturday night, a man who, according to the NYPD, has a known history of luring gay men with the intent to rob and injure them attacked two people at Julius. The suspect is currently in custody."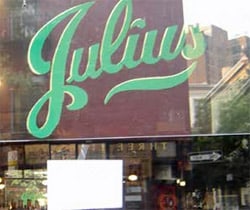 Said Sharon Stapel, Executive Director of the New York City Anti-Violence Project: "This most recent attack underscores our need to stop the hate speech and anti-LGBTQ vitriol that results in this kind of attack. It is unacceptable that perpetrators of anti-LGBTQ violence feel emboldened to come into any neighborhood, including gay-friendly neighborhoods, and attack LGBTQ people because of who we are. We must as a city, and as a country, recognize the real harm and damage that discrimination and anti-LGBTQ hate does to all of us. AVP will not tolerate this kind of violence and we call on all of our friends and allies to speak out against anti-LGBTQ speech of any kind and help us create a world in which LGBTQ people are safe and respected and no longer face this kind of harm."
According to the AVP, New York City Council Speaker Christine Quinn's office as well as the NYPD Hate Crimes Task Force and the New York County District Attorney's Office are investigating.
UPDATE
"A bartender at the city's oldest gay bar was slugged in what authorities described Monday as yet another bias attack in New York. Suspect Frederick Giunta, 25, is charged with beating up two men on Oct. 11. Guinta first attacked a man in front of 114 Christopher St., grabbing his wallet and cutting his face with a punch, authorities said. About 10 minutes later, at 5:40 p.m., he slugged a man two blocks away inside the Julius Bar, the city's oldest gay watering hole, authorities said. 'What are you going to do, you f—— n—–,' he allegedly yelled at that victim. 'You are a f—–g f—-t.' Giunta was arrested Friday and charged with misdemeanor as a hate crime and attempted robbery."
The attack comes just a few weeks after two men attacked a gay man in the bathroom of NYC's Stonewall Inn.