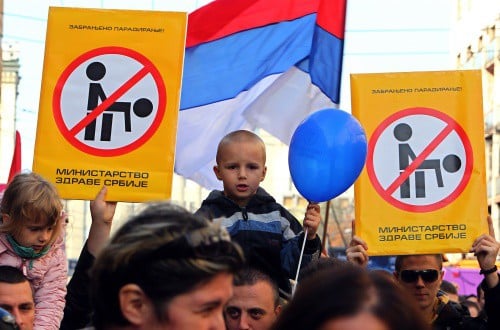 Thousands of people participated in an anti-gay march in Belgrade today, one day before what will be the first gay pride parade in Serbia in nine years,. Reports differ but police have estimated the crowd to be between 7,000 and 10,000 bigots who have called for a cancellation of tomorrow's march.
Reports The Herald Sun:
Several thousand Serbs marched in the capital Belgrade overnight in protest against a planned gay pride parade. Participants ranged from families with children to young football supporters, some of whom gave fascist salutes and shouted for the death of homosexuals.

Police kept a close eye on the march from the city centre towards the parliament, organised by the extreme nationalist Dveri organisation, but there were no incidents. "The state does nothing to help families yet it authorises this unnatural rally," Dveri spokesman Miroslav Parovic said. "We want it stopped."
Even more frightening, posters have popped up all over Belgrade this week with the ominous message aimed at those who will take part in the pride parade: "We are waiting for you." Last year's parade was canceled over concerns about safety. 1,000 pro-gay rights activists are expected to participate tomorrow and the police representation is estimated to be 5,000 officers strong.
According to Amnesty International, who will also participate in tomorrow's pride parade, "70% of the people in Serbia consider homosexuality a disease."
Watch members from Gays Without Borders demonstrate in front of the Serbian Mission to United Nations in New York and deliver a pro-gay message letter their government, AFTER THE JUMP.