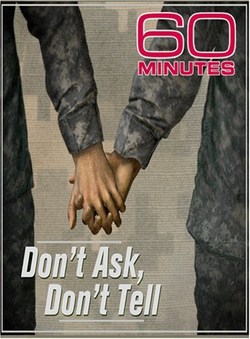 U.S. District Court Judge Virginia Phillips dealt a huge blow to Don't Ask Don't Tell this afternoon, when she ruled that the military policy "infringes on the fundamental rights" of servicemembers.
Basically, the 17-year old restrictions on openly gay soldiers are unconstitutional and all further discharges must stop.
"'Don't Ask, Don't Tell' infringes on the fundamental rights of United States servicemembers and prospective servicemembers and violates (a) the substantive due process rights guaranteed under the Fifth Amendment," wrote Phillips in her three-page ruling on a case brought by the Log Cabin Republicans.
"And (b) the rights to freedom of speech and to petition the Government for redress of grievances guaranteed by the First Amendment."
Phillips' ruling, which comes two-weeks after a more narrow ruling and a Department of Justice objection, orders the government and Defense Department to immediately "suspend and discontinue any investigation, or discharge, separation, or other proceeding, that may have been commenced under the 'Don't Ask, Don't Tell' Act."
The government now has 60 days, until December 16, to appeal the ruling, which they're currently reviewing. Chances are that the Obama Administration will indeed appeal, because the President has made clear he wants Congress to handle Don't Ask's demise.
Though this is all exciting news, Servicemembers United suggested "caution." "This order from Judge Phillips is another historic and courageous step in the right direction, a step that Congress has been noticeably slow in taking," said executive director and co-plaintiff Alexander Nicholson. "While this is certainly news to be celebrated we would also advise caution in advance of a potential stay from the Ninth Circuit. If the appellate court wishes to put itself on the right side of history, however, it will allow this sound and long-over due decision to remain in effect."