As you probably know, on Tuesday Judge Virginia Phillips issued an injunction barring enforcement of the military's "Don't Ask, Don't Tell" policy.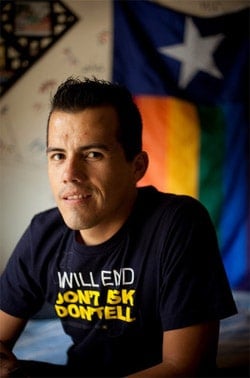 The NYT reported that a service member discharged under the policy attempted to reenlist yesterday:
With a briefcase full of commendations under his arm, Omar Lopez walked into an Austin, Tex., recruiting office Wednesday. Mr. Lopez, 29, had served nearly five years in the Navy. He was honorably discharged in 2006 for "homosexual admission," according to documents he carried. He wanted to re-enlist.
But recruiters turned him away hastily, saying they had no knowledge of any injunction or any change in military policy.
"I like the civilian world, but I miss it," Mr. Lopez said of the military, as he arrived with a worker for Get Equal, a gay rights advocacy group. "I feel lost without it."
(image melanie grizzel/nyt)
Now, Dan Woods, lead attorney for the plaintiffs in the Log Cabin case, has written a letter to lead DOJ attorney Paul Freeborne citing the article and noting that this may place the Defense Dept. in contempt of court.
A copy of the letter (via LGBT POV) from Woods, AFTER THE JUMP…
Woods asks Freeborne to disclose "what steps the government has taken to communicate the terms and requirements of the Court's order to military personnel, including field commanders and military recruiting offices…"
According to AFP, the Pentagon had been issued no guidance as of early Thursday afternoon.
The Pentagon said Thursday it had not yet issued guidance to commanders on whether to follow a district court order to lift the ban on gays serving openly in the military.
"We give a lot of authority and responsibility to our commanders to make the best decisions possible," said Colonel David Lapan, a Pentagon spokesman. "We anticipate commanders will use good judgment."
But he declined to confirm whether the military would obey US District Judge Virginia Phillips' injunction, issued on Tuesday, preventing US authorities from enforcing the "Don't Ask, Don't Tell" policy, which requires gay and lesbian troops to keep quiet about their sexuality or face being discharged.
"I wouldn't say it's business as usual. Last week, we didn't have a court injunction, this week we do," Lapan said. "But there's no real moratorium."
He acknowledged that there nonetheless remained a "de facto" moratorium because of the judge's order.
A copy of the letter (via LGBT POV) from Woods, AFTER THE JUMP…