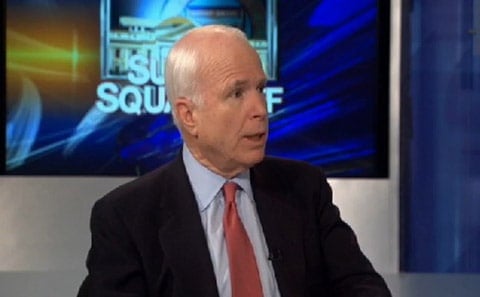 On Arizona 12's locally-aired Sunday Square Off, John McCain discusses efforts to repeal the military's "Don't Ask, Don't Tell" policy, criticizing Judge Virginia Phillips ruling that the measure is unconstitutional, and painting Obama as inexperienced in military matters.
Says McCain: "The President of the United States has no military experience, no impact with the military, went over to San Diego and called the corpsman "corpse" man. I guess he thought it was 'The Day of the Living Dead'. And has made this decision because of a political promise to the gay and lesbian community."
Adding, of DADT: "Absolutely I will filibuster or stop it from being brought up until we have a thorough and complete study on the effect of morale and battle effectiveness."
Watch (starts at 4:00), AFTER THE JUMP…