Rally against anti-gay bullying to take place in the Bronx this weekend.

After ACLU pressure, Colorado school to allow student to wear "marriage is so gay" t-shirt.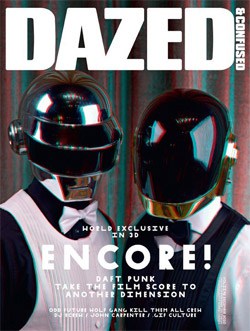 Daft Punk get the 3-D treatment on Dazed & Confused.

Guess who People declared Sexiest Man Alive?

And, apparently People's Facebook poll elects its own Sexiest Man Alive.

Victoria Kolakowski is nation's first elected openly transgender judge: "Alameda County elections officials say Kolakowski beat prosecutor John Creighton 51 to 48 percent — a margin of nearly 10,000 votes — in the Nov. 2 election to fill the vacancy in California's Superior Court. Kolakowski had been leading since election night, but outstanding absentee and provisional ballots made the race too close to call until Monday."

WATCH: Pink tells Ellen what's inside her womb.

HRC marriage equality strategist Brian Ellner named to the education transition committee of New York governor-elect Andrew Cuomo: "Cuomo, who has placed a premium on finding talent before his administration begins in January, announced the formation of his final three transition committees Tuesday in the areas of education and health, transportation and infrastructure, and state and local government reform. The committees are charged with recruiting, reviewing and recommending candidates for administration positions."

World record panoramic photo: London.

Watch: Prince William and Kate Middleton give their first TV interview.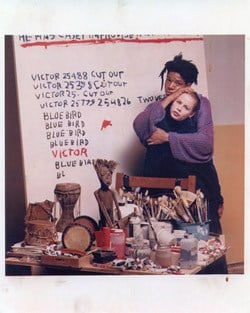 A new peek into the life of Jean Michel-Basquiat.

University of Wisconsin-Whitewater responds to hate crimes: "UW-Whitewater students who own a "Legalize Gay" T-shirt are encouraged to wear them throughout the day. Students who do not own a shirt can pick up a free T-Shirt at the IMPACT office located in the UC."

Jazz and the queer aesthetic.

Gay waiter sues UK restaurant claiming he was sexually harassed by managers and had his nipples tweaked by customers.

Listen: Antoine Dodson's 'Bed Intruder' song gets the acapella treatment by NYU singing group.

Fran Lebowitz peeks out of the closet? "When discussing gay rights, she says it's weird that gay people are fighting to marry and be in the armed forces–those seem like the antithesis of freedom, she says, adding that they're not rights she particularly wants for herself (though she'd vote for them since other people want them so badly)."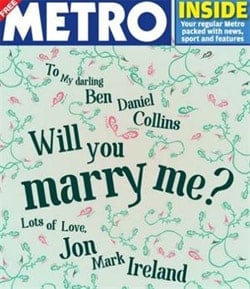 British paper carries gay marriage proposal on cover. He said yes.

It's gay superheroes vs gay zombies in Spandex 3.

Eureka Springs, Arkansas adds domestic partner benefits for city workers: "The city's insurance provider, the Arkansas Municipal League, notified the city that beginning January 1, 2011 both same- and opposite-sex partners of city workers will have the same access to health insurance as legal spouses."

Video: Blackberry Playbook vs. iPad.

Multimedia campaign launched against LGBT discrimination in Mongolia: "As part of the campaign, the LGBT Centre has produced six  'End Discrimination'  public awareness advertisements that will air throughout the country from November till mid-March 2011. The advertisements  focus on six separate areas of concern: hate crimes against LGBT people, discrimination in the workplace, discrimination and violence in the home, discrimination in schools, discrimination in the health sector, and the delegitimisation of and discrimination against LGBT relationships."