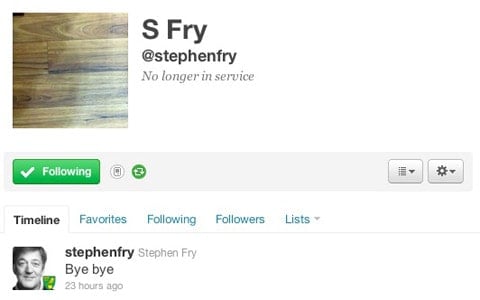 Prolific tweeter Stephen Fry has apparently left the service following outrage over the weekend over an Attitude magazine article in which he suggested that women only have sex with men because it's the price they're willing to pay for a relationship.
Attitude quoted Fry as saying:" I feel sorry for straight men. The only reason women will have sex with them is that sex is the price they are willing to pay for a relationship with a man, which is what they want. Of course, a lot of women will deny this and say, 'Oh no, but I love sex, I love it!' But do they go around having it the way that gay men do?"
Before bidding good-bye yesterday, Fry tweeted: "So some f*cking paper misquotes a humorous interview I gave, which itself misquoted me and now I'm the Antichrist. I give up."