Defense Secretary Robert Gates responded to the Senate's failure to pass the Defense bill on his way back from the Middle East on Friday: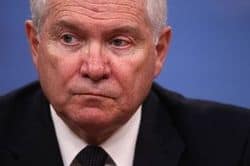 Senate Republicans blocked legislation to repeal the "Don't Ask, Don't Tell" policy on Thursday in a major defeat for the Obama administration. Mr. Gates said he was "disappointed in the Senate vote but not surprised," and urged lawmakers to try again for passage to avoid leaving the issue to be decided by the courts.
"There is still roughly a week left in the lame-duck session, so I would hope that the Congress would act,'" Mr. Gates told reporters aboard his plane at the end of a nearly week-long trip to Oman, Afghanistan and the United Arab Emirates.