House Speaker Nancy Pelosi says if the Senate can pass a stand-alone bill to repeal "Don't Ask, Don't Tell", such as the one Joe Lieberman announced he was introducing yesterday, she will get it passed in the House.
Talking Points Memo reports: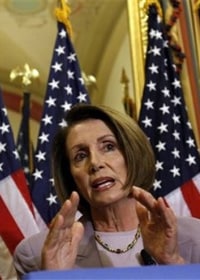 "An army of allies stands ready in the House to pass a standalone repeal of the discriminatory policy once the Senate acts," Pelosi said in a statement to reporters.
*****
Under the rules of the House, where Democrats still have an overwhelming majority until Jan. 5, bringing the bill to the floor is much easier. The way the system works in the House could allow Pelosi to bring a Senate bill to the House floor and pass it in a matter of hours, making the pressure of the condensed legislative calendar much less of a factor there than it is in the Senate.
In her statement, Pelosi made it clear that she's prepared to move a bill if she gets it.
"Since the repeal of 'Don't Ask, Don't Tell' has broad support among Senators, our troops, and the American people, it is my hope that that the Senate will move forward with an alternative legislative method," she said. "The bipartisan proposal from Senators Lieberman and Collins provides renewed hope that progress is still possible in the Senate."
Last night on the Rachel Maddow Show, SLDN executive director Aubrey Sarvis said that S4022, the bill that Lieberman is introducing, has a "good chance" of passing in the Senate.