Two of the men originally named as perpetrators of the anti-gay gang attacks in NYC's Bronx borough in October have been redesignated as victims, WNYC reports: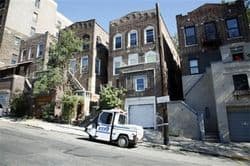 Until now, investigators have maintained there were four victims that night, two men and two teenagers. But the grand jury has named two new victims, Bryan Almonte and Brian Cepeda. Those are the same names of two of the defendants originally charged in the case and later released, though prosecutors have not confirmed they are the same people.
The indictment says Almonte was assaulted while Cepeda was threatened with a pair of pliers. The four other victims were allegedly attacked with a can, a stick, a pipe, a bat and a lit cigarette. 
The defendants are facing 75 total counts, including gang assault, sexual abuse, robbery and burglary. Several offenses have been charged as hate crimes, and the most serious counts each carry a maximum of 25 years in prison.