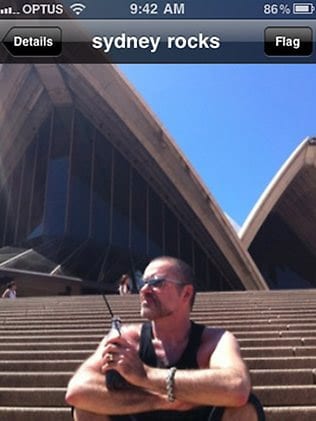 Apparently there are a lot of people out there who look like George Michael, and at least one in Australia who enjoys posing as Michael on social networking hook-up apps when he's in the country.
Anyone trawling through the gay dating app Scruff would be forgiven for thinking that there is a famous face among the "bears, furred, inked, uniformed, jocks, geeks and more" the site is marketed to.
A shot of a bearded man happily posing in front of the Opera House bears an uncanny resemblance to pop star George Michael.
But the profile, listed under the name "Sydney rocks", is actually the work of an impostor.
A publicist for the singer told the Daily Mail: "We hear about stories like this all the time and they always turn out to be pranks."
Michael has been calling Sydney home of late after snapping up a $6 million luxury property in the exclusive seaside enclave of Palm Beach.
Last March, Michael (or his impostor) was reportedly spotted using the Grindr app in Melbourne. The singer was also in town at the time.