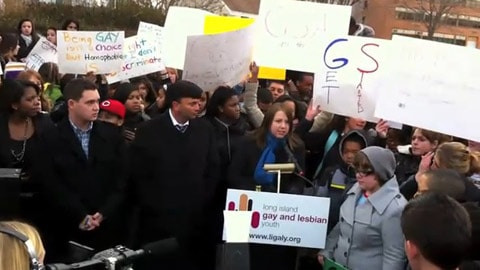 Several hundred students rallied in support of a Gay-Straight Alliance at Long Island's Valley Stream South High School in New York yesterday. I mentioned yesterday that the school's superintendent had approved the GSA after four months of contentious debate but it hadn't been confirmed at the time this rally was held.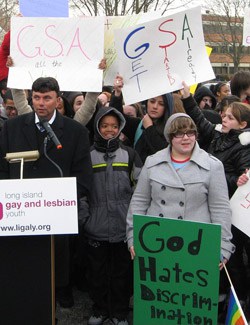 Long Island Gay and Lesbian Youth sends us this statement:
David Kilmnick, CEO of LIGALY, said not only should the GSA be approved immediately, but the schools principal, Maureen Henry, must be held accountable for her insensitive, appalling and homophobic response to the student organizers. In a meeting with student leaders in December 2010, Principal Henry justified the use of the word "faggot" when she told the students that when she was a teenager, she too used the word and it really doesn't mean anything bad.
Joe Kofler and Kelly Egan, two seniors at the school and lead organizers of the proposed GSA at Valley Stream South, said that they were overwhelmed at the support shown by the more than 200 students that attended the rally and that they were even more energized now to continue the fight and make sure that a GSA is in place before they graduate.
At the time of this release, some media outlets were reporting that the school had allowed the GSA to form and hold its first meeting on Thursday afternoon. However, school officials had not informed the student organizers of any such approval and no meeting took place. "If there was a GSA at Valley Stream South, the more than 200 students at the rally would have been at the club meeting, not standing outside the school demanding that the GSA be approved," said Kilmnick.
One of the student organizers was summoned into the school psychologist office earlier today and warned that if this "escalated" he would be banned from attending senior activities and coming back to the school after he graduates. LIGALY will continue to work with the Valley Stream South students and has brought on the local chapter of the New York Civil Liberties Union to ensure that their rights are protected and the bullying and intimidation they are facing by school officials comes to an immediate halt.
Watch the rally, AFTER THE JUMP…